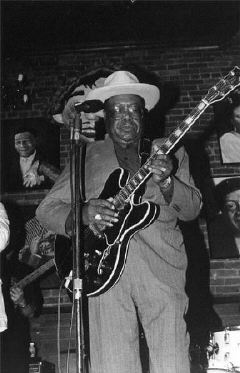 Jimmy Rogers at Seattle club, 1993
Jimmy Rogers
James Segrest: Did Wolf had a sense of humor? Did he clown a lot or was he more serious? And what was his personality like offstage?
Jimmy Rogers: He would try to tell jokes sometimes. We laughed at him. I was driving around with him one time, and he says, [imitating Wolf] "I used to swamp all out there." "That's an airport now, Wolf." "It used to be woods. I used to trap out there. Coons, possums..."
J.S.: I heard that people in the band used to call him "Pa Shot." Hubert called him that.
J.R.: Pa Shot. That's right.
Mark Hoffman: Did Wolf ever talk about his family to you?
J.R.: He never talked about his family or his mother to me. Now I heard some stories about them. I keep it under my hat.