An amazing new biography of Sam Phillips of Sun Records!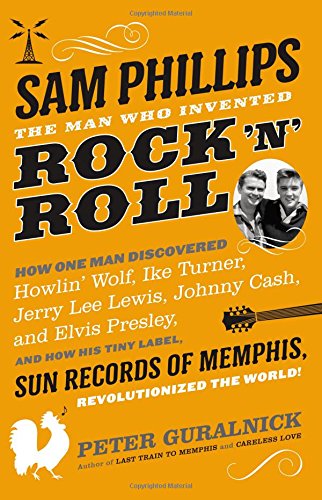 Peter Guralnick, one of the best American roots-music writers ever, has just released an outstanding new biography of Memphis music trailblazer Sam Phillips, who "discovered" Howlin' Wolf, Ike Turner, Walter Horton, Elvis Presley, Carl Perkins, Johnny Cash, Jerry Lee Lewis, and Roy Orbison, among others. Reading this book, you'll see how tough and touch-and-go recording all these great artists was for Phillips physically, psychically, and financially. For example, he had to sell Elvis's contract to a large record company for $35,000 because he needed the money to pay off debts to keep going. Phillips always said, truthfully that he never regretted this decision. His alternative was to declare bankruptcy, and $35,000 was a huge sum in 1955--the most any popular singer's contract had ever garnered until then.

Until the end of his life, Phillips said that Wolf was the most profound artist he ever worked with, and he wanted to record Wolf until either of them died. He never got that chance because Wolf left Sun Records to record for Chess Records in Chicago in 1954. Losing Wolf was the biggest disappointment of his career, Phillips said--far worse than losing Elvis to a bigger label. That tells you all you need to know about what he thought of Wolf's talent.

Peter Guralnick's book is the definitive book about the startling story of Sam Phillips and the birth of rock 'n' roll. It's well worth reading for anyone who loves American music. As someone put it, Phillips recorded "a millennium's worth of music in 10 years," and popular music has never been the same.
Wolf and Warhorse!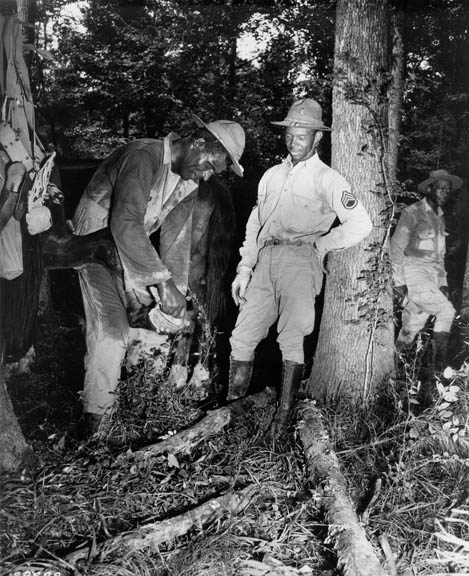 "Pvt. Chester Arthur Burnett, Picket line Troop G, 9th Cavalry (colored) from Aberdine, Mississippi, cleaning frog of horse, while Staff Sgt. Columbus Rudisal, Goffney, S.C., looks on. Sgt. Rudisal is directing Troop G, 9th Cavalry, 4th Brigade. Sept. 12, 1941."
Thus reads the caption next to a photo of legendary bluesman Howlin' Wolf that we recently stumbled across on a U.S. army history web site. This photo has apparently been on the Internet for many years, and we're the first to notice that it includes Howlin' Wolf.
Amazingly, this is one of the earliest photos of Howlin' Wolf ever taken, long before he was world-famous as a blues singer. In the photo, Wolf is cleaning the frog of a horse's hoof. That's the V-shaped, relatively soft part of a horse's hoof, which can make the horse lame if a pebble, stick, or burr gets embedded in it. As a blues-loving wit said, paraphrasing Sonny Boy Williamson #2, "He's not fattening frogs for snakes!"
The photo was taken while Wolf was a cavalryman during the Louisiana Maneuvers, a series of mock battles conceived by general George Marshall and led by generals George Patton, Omar Bradley, Mark Clark, and soon-to-be general Dwight Eisenhower. Marshall said, "I want our mistakes made in Louisiana, not in Europe." Patton perfected his tank maneuvers for World War II here, saying, "If we can take these tanks through Louisiana, we can take them through hell."
The maneuvers were called the "Big One" because they involved more than 350,000 men in the largest military exercises ever held in the U.S. It was the last time the U.S. military took the cavalry seriously as a weapon of war.
Not only that, but the 9th Cavalry Regiment with which Wolf served was famous as of the original "Buffalo Soldier" units. So Wolf was already one of the last U.S. cavalrymen, one of the last Buffalo Soldiers, and one of the greatest bluesmen ever, all at the age of 31.

Read "Moanin' at Midnight" —the first and only biography of the great Howlin' Wolf —a Blues Hall of Fame inductee as "a classic of blues literature"!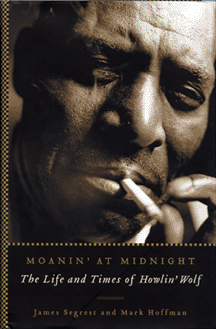 Answers almost every who, what, and why about the blues giant." - National Public Radio
"An insightful—and long overdue—look at an utterly unique and influential performer."- The Houston Chronicle
"A superb biography of the bluesman Sam Phillips thought could have changed rock 'n' roll history."- Mojo magazine




More than 35 years ago, Howlin' Wolf predicted the first black President: "You know, they called us 'coons'—said we didn't have no sense.You gonna wake up one morning, and a coon's gonna be the President." —"Coon on the Moon" from The Back Door Wolf, recorded in 1973 and written by Wolf's band leader, Eddie Shaw

We're always looking for unpublished photos, unseen or unheard film, video, and sound clips, and first-person stories of and about Howlin' Wolf! If you have any of these or know someone else who does, please contact Mark Hoffman. Thanks!